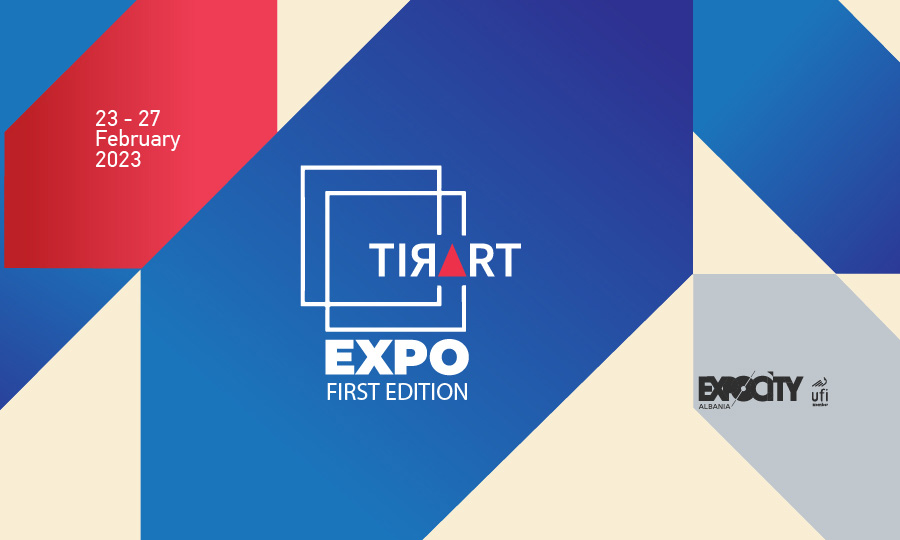 Project: TIRART 2023
"With humility for the artists"
Tirana Art Expo TIRART 2023, which will be organized in the premises of ExpoCity during 23 to 27 February 2023, is the first fair in the country that is entirely dedicated to visual arts. In the past decades, attempts have been made by government bodies to create this tradition, but due to the lack of vision, they failed to have longevity, so we see it as an obligation and responsibility that, just like in all European countries, Tirana and our country, to have its own annual fair in visual arts.
Seeing that in our country there is already a whole army of visual artists who research all mediums of visual arts and that at the same time, the market is interested in traditional, but also contemporary approaches to art, we notice a desire for more information about these artists, as well as for what they represent on the artistic level, for the possibility of art consumers contacting the artists, but at the same time, for the possibility of head-to-head talks between them.
Therefore, TIRART 2023 thinks that it is the right moment to organize a fair of visual arts in the premises of ExpoCity, where a healthy tradition of fairs has already been created, and where the dedicated space is of the most optimal parameters.
In cooperation with the Gallery of Tirana and the Academy of Arts, a complete list of authors from all Albanian-speaking regions has already been made, and for the first time, they will be present with a large number of works in all the variety of mediums.
We must bear in mind that entire generations of artists have created and been active especially during these three decades in the cities where they lived, creating an artistic microclimate, which represented with dignity the communities where they lived, while also identifying with them. The continuous activity of these artists, based on a spirit of altruism and love towards the communities they have represented, has been a tremendous help in preserving a cultural spirit, but at the same time, in not extinguishing the artistic feeling, while also laying the foundations for the creation of a new generation of artists, who operate inside and outside the country. In the history of art, these artists are defined as artistic retroguards, and we should all be grateful to them for their contributions.
Therefore, in this fair, considerable space will be provided to retroguard artists with all the culture and tradition they represent, alongside more alternative artists who are in the process of challenging artistic conventions in the path to creating a new artistic dynamic.
In this fair, in honor of great names such asGuri Madhi, Fatmir Haxhiu and Arben Bajo, an auction will be organized with one work from each author.
Therefore, TIRART 2023 will have these three great artists as emblematic figures, while identifying with them. This methodology of identifying each edition with one or more well-known figures of Albanian art, will return to tradition.
The goal is to bring to the public all the representatives of the visual arts operating in our country, as well as to consolidate the tradition for the continuity of this activity.
For future editions, the aim is to attract artists from other countries, especially from the region, creating a magnetization of this event, but also to transform the city of Tirana into a real cultural center with international influence. We think that these goals also coincide with the very reputation that the capital has achieved, being placed in the center of attention, not only by international institutions, but also thanks to the flow of interest from citizens of many countries.
The beneficiaries of this fair are primarily the central or peripheral artists, those with an established reputation and young ones, galleries operating in the country, art consumers, collectors, state and private institutions that are interested in enriching their collections, as well as the general public.
Another target group are young people, who will be offered a special space to exhibit, in collaboration with the university of arts.
We think that it is now the right moment for artists to have a space full of light and positivity, and TIRART 2023 has exactly this mission in mind, to be by their side serving them with no complex, and with humility.