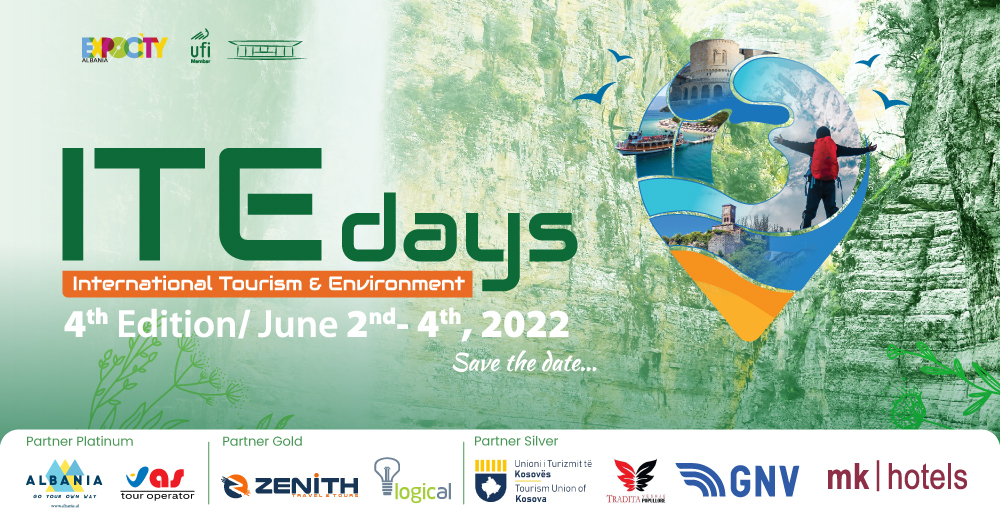 What is ITE days?
Tirana International Tourism and Environment Days is a unique event where all the Travel and Tourism professionals, Environment experts along with all Travelling enthusiast from all over the world could get together and discuss these new trends.
International Tourism and Environment Days will help professional industry from the region and the rest of the world to exchange products and ideas with each other. Travel and Tourism enthusiasts will find products from many different companies which provide Travel and Tourism.
There will be plenty of opportunity for B2B and B2C with travel partners inside and outside the country. Ecology activists will have many opportunities to share ideas and to train industry stakeholders and the public, how to have a better environment.
WHO CAN EXHIBIT AT ITE DAYS 2022
– Eco-Tourism
– Sea Tourism
– Cultural and Historic Tourism
– Beach Holidays
– Mountain Trips
– City Escapes
– Package Deals
– Culinary Tourism, etc
ITE days incorporates different areas where change is necessary in order to achieve greater equality for destination communities.
WHO WILL FIND ITE DAYS
1. Government Representatives from the Region;
2. Tourism Industry (Local, regional and international companies) such as: tour operators, hotels, resorts, travel agencies, other companies offering services and/or products in the tourism sector;
3. Independent Tourism Investors;
4. Institutional Tourism Investors;
5. Tourism establishments and tourism enterprises, including their associations from Albania, the Region etc.;
6. Hotel associations, and/or other travel industry associations or organizations;
7. Tourism professional schools and training centers;
8. Albanian & Regional Culinary Representatives etc.;
9. Cultural & historic tourism;
10. Medical & Dental tourism;
11. SPA & Wellness
12. Elite representatives from tourism industry
13. Seashore Tourism, Mountain Tourism, Agro Tourism
Contacts and meetings will be facilitated during three days of the trade show.
The exhibition area is an open, modern an interactive space. ITE days 2022, will include great events such as:
-workshops
-live discussions
-offers & discounts
-travel packages
-entertainment events
-wine tastings and many other surprises.