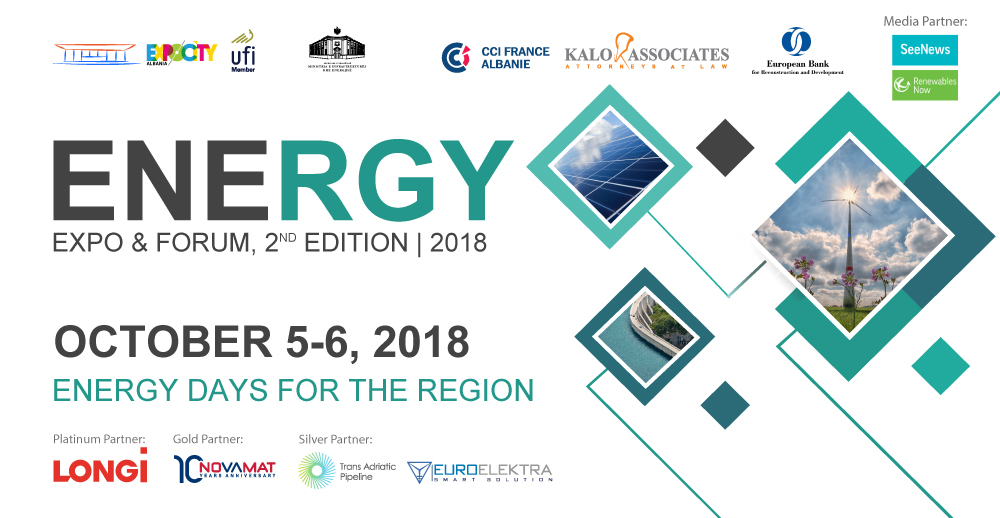 ENERGY IN A SINGLE MARKET / RENEWABLE ENERGY / ENVIRONMENTAL PROTECTION / SUSTAINABLE LIFE / THE FUTURE OF ENERGY IN THE REGION
On October 5-6, 2018, the second edition of the Energy Expo & Forum fair will take place at Expocity Albania. This edition will focus on the great potentials of Albania, Kosovo, Montenegro, Macedonia, Greece, Croatia and Serbia for Investing in Electricity.
As a country with great and unused potentials, Albania benefits from
huge investment opportunities in this area, which also pertains to current electricity market policies. The new Renewable Energy Law adopted last year and the regulated legal framework will create new prospects for investments and cooperation.
The New Law on Renewable Energy Nr. 7/2017 "On Promoting the Use of Renewable Energy from Energy", which entered into force in February 2017, sets out the legal framework for the promotion of renewable energy production.
This law includes the installation of solar panels for households and businesses.
The novelty of this exhibition and forum will include the entire region and beyond, as well as on the topic to be tackled including environmental issues and respect for climate change, construction technology issues in respect of energy efficiency.
This forum will gather collectors and producers of the renewable energy sector, becoming the main B2B platform for investors, developers and consultants. Participants will be advised across the spectrum of the energy sector regarding opportunities, the tendering process and the challenges, with a particular focus on the renewable energy sector and the future of energy in Albania and the region.